Link Your Hop
Click this link - Blog Catalog to:
- link your hops
- link up your hop library
- check out the links to the daily hops
- leave a comment to request a category
Finding New Friends
Weekend Hop
Friendly Friday Hop
Five Question Friday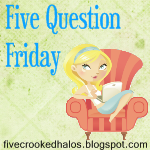 1. If you knew your best friend's spouse was cheating on her or him, would you tell her (him)?
Yes. I would hope they would do the same for me.
2. Soda in a can or a bottle?
I like it in a bottle but nothing beats a Coke fountain drink.
3. What do you wash first, hair or body?
Hair - always.
4. What advice would you give to any new mama?
Have baby nap in room where there is activity and sleep at night in crib/nursery. This way they get used to sleeping through noise and when they get older they know crib/nursery means down for the night.
5. What is your best hangover remedy?
Know your limitations so it doesn't come to that.